Brighton Fashion Week
June 6th, 2013 by claremont
Brighton Fashion Week from 13th to 16th June strives to showcase innovative and new talent alongside more established designers. Famed for its extravagance, eccentricity and singular approach to fashion spectacles, there is no other platform like it to push the boundaries of fashion, costume design and artistry.
If you're interested in fashion this would be a good time to pop down to Brighton. You could come and stay in our beautiful 5 star guest accommodation after the busy Brighton bustle of Fashion Week! You can book through our website or call us direct on 01273 735161 for special deals.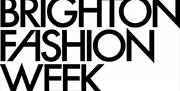 Comments are closed.